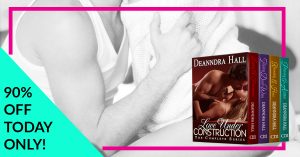 Today Only! Grab this International Best Selling Boxset for 90% off the retail price.
Only $0.99 for 4 FULL LENGTH Novels – over 2,000 pages of steamy hot romance.
Normally priced at $9.99
iBooks – http://www.deanndrahall.com/l/1076
Amazon US – http://www.deanndrahall.com/l/1059
BN – http://www.deanndrahall.com/l/1079
Kobo – http://www.deanndrahall.com/l/1058
Play – http://www.deanndrahall.com/l/1060
Grab the fire extinguishers and hang onto your panties – the Walters men are all here in one massive volume of fun!

Heavy equipment's never been sexier in a series that'll take your breath away when Louisville's favorite Italian family and their friends turn up the heat to scorching. It's love, lust, and danger, Walters style!
Broken-hearted and alone, Nikki Wilkes can't imagine that the dark, sexy guy she's watched in the gym for years could be her knight in shining armor, but she has no idea how wounded and beaten-down Tony Walters feels. Forging a relationship seems impossible when it's pitted against insurmountable obstacles. Friends and family join in, putting lives in danger and hearts at risk as more of the clan realize love is worth all costs. Nine lonely people against the backdrop of a steamy Southern city in the heart of the Bluegrass will prove they have the charm, European sophistication, and enough kink to turn you upside down and wrong side out. Forget those pesky Thoroughbreds – with the Walters family, you'll get the ride of your life!
Grab these amazing tales of love and danger and get started on the epic adventure today!
WARNING: Strong, graphic, kinky sexual scenes and graphic criminal violence. Not intended for readers under the age of 18.