I love color. Who doesn't? But I especially like for things to be colorful around my house. My bedroom has plum and lime green walls with turquoise draperies and a multicolored quilt. Yeah – colorful for sure.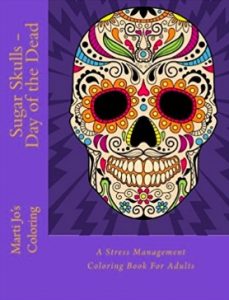 I've picked up a few things over the last little while that I really enjoy. One of them is an adult coloring book called Sugar Skulls – Day of the Dead: A Stress Management Coloring Book For Adults. I love anything and everything sugar skulls, so this was right up my alley. I started coloring one of the pages right away, and did a couple more over a few days. After staring at a white screen with little black letters on it all day, it's nice to see some color! You can see the ones I've completed below.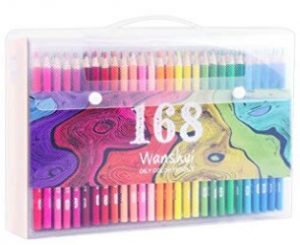 At the same time that I ordered the book, I ordered these, 168 Colored Pencils Art Drawing Colored Pencils Set for Adult Coloring Books, Sketching, Painting. I'd ordered a set for a friend and decided to get myself some. I'm really glad I did! They're great pencils, very soft and rich, and having 168 different colors (no repeats!) has made it easy to do some shading. Doesn't matter what color I want – I can find it in that set!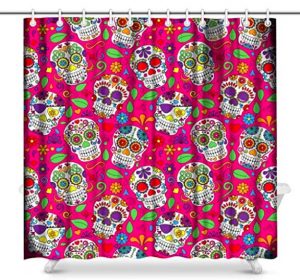 To make things even sweeter, my daughter got me a Day of the Dead shower curtain. I can't find it online, but this one is cute and it reminds me a lot of mine. I might actually have to get this one – so many colors!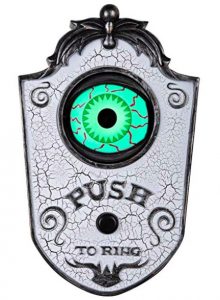 And, of course, the kid in me had to have this, the Gemmy Animated Halloween Doorbell. Yes, I'll admit it – when it comes to this stuff, I am indeed 12 years old. I can't help myself. It lights up and talks, and that was just too much fun.

A friend of mine found one of these and sent it to me as a gift. It's an Azio Retro Keyboard, and while this one is black with gold, mine is black with BRIGHT PINK! Yeah, it practically glows! It's definitely one of the most colorful things in my office.
We painted the inside of our travel trailer, and it's a combination of red, turquoise, and taupe. The fabric I'll be using for the upholstery is a beautiful print, sort of Middle Easter-inspired. I'll be adding colorful throw pillows, throws, and artwork. i can't wait to see what it will look like!

Of course, of you're a color-lover, this is the perfect time of year to enjoy the colors of autumn. My maples have already shed their leaves, and the ground in my backyard is a combination of oranges, reds, golds, and browns. It's beautiful, even if it's not still on the trees.
What's your favorite colorful thing? Easter eggs? Christmas lights? Birthday decorations? Fourth of July fireworks? We all need a little color in our lives. Go out and find some to brighten your day.
Contents ©Deanndra Hall 2018
This website sometimes contains links to other sites. Please be aware that we are not responsible for the content or privacy practices of such sites. When leaving this post, please read the privacy statements of any other site. Links used in this site may be, but are not always, affiliate links and, as such, may share revenue from sales with the author.